Check out some of the great features of the Netkiller Shared Contacts application. This Google Apps cloud solution has an easy-to-use interface that allows administrators to set up, manage, and share contacts with all users within their Google Apps domain. Standard users can look up internal and external shared contacts, and add contacts to groups.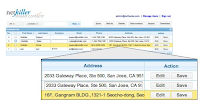 Netkiller Shared Contacts One-click editing
One click editing: The user interface of the Netkiller Shared Contacts application sports a user friendly, direct, one-click editing function that allows contacts to be easily and quickly updated and modified. Simply click 'edit' and the contact fields unlock for a quick modification, change of address, new information on a contact, etc.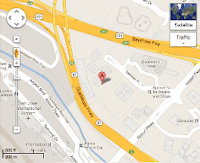 Netkiller Shared Contacts with Maps

Addresses link to Google Maps: Using the Netkiller Shared Contacts application interface, it is easy to locate contacts for shipping, meeting, coordinating, and more with the instant Google Maps address function. Once a contact's address is filled in, one click on the address in the NSC interface will link directly to a Google Maps image of the location.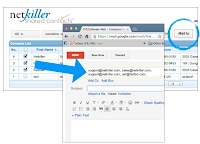 Send Mail from Shared Contacts
"Mail To" function: Netkiller Shared Contacts makes it easy to find the contacts you want to send mail to, and streamlines the process by cutting out the need to type in addresses. Simply check the contacts you want to include in a message, and use the "Mail To" function, and your Gmail will automatically include those addresses. This kind of configuration can make newsletters and important announcements much easier to manage. Coupled with the intuitive search function of the NSC interface the whole process is made a whole lot easier.

Shared Contacts in Mobile
With the NSC application, shared contacts are available directly from users' smartphones, making it easy to find the contacts you need even on the go.
Use Cases
Over 300 organizations use Netkiller Shared Contacts; the application is a valuable tool for both businesses and educational institutions. Here are example use case scenarios for both business and education, as well as for personal use:
Use case for business: Manage customers, partners, and employee contacts. Grant access to all staff or selected individuals for tighter administrative control.
Use case for education: Manage faculty, staff, students' parents, and even alumni contacts in the same system as student contacts while restricting student users' access to the shared-contacts list.
Use case for personal use: Although the primary function of NSC is to share contacts between individuals, the features of the application also provide convenience and utility for personal use.