Cloud platform is now gradually becoming a mega trend and it is essentially changing the way people go about collaboration their personal as well as professional information with colleagues.
Amidst all of this, Netkiller has realized that people are now using the cloud platforms to write, send and receive documents and emails and so they have introduced a new secure and easy way to manage these cloud documents and submit them on a workflow so people can collaborate seamlessly.
netkiller_Docs is one of its kinds as there is no other which can manage the collaboration as well as the documents that are present in a cloud. With this application, you will be able to do cloud collaboration and take care of document workflow without hassle so that it can be integrated with the Google cloud platform. netkiller_Docs works well with Google Apps and Gmail and is available to all its users.
For starters, netkiller_Docs basically has two functions one of which is 'Docs' which provides an enhanced view of Google drive. Because of this feature, the users will easily be able to find the shared document on the cloud. For instance, when you click 'users' from the organizational chart, it will show you the list of documents that have been shared with the selected user. This is why it becomes easier for you to find the updated versions and search the documents that you need according to the time frame that you have entered.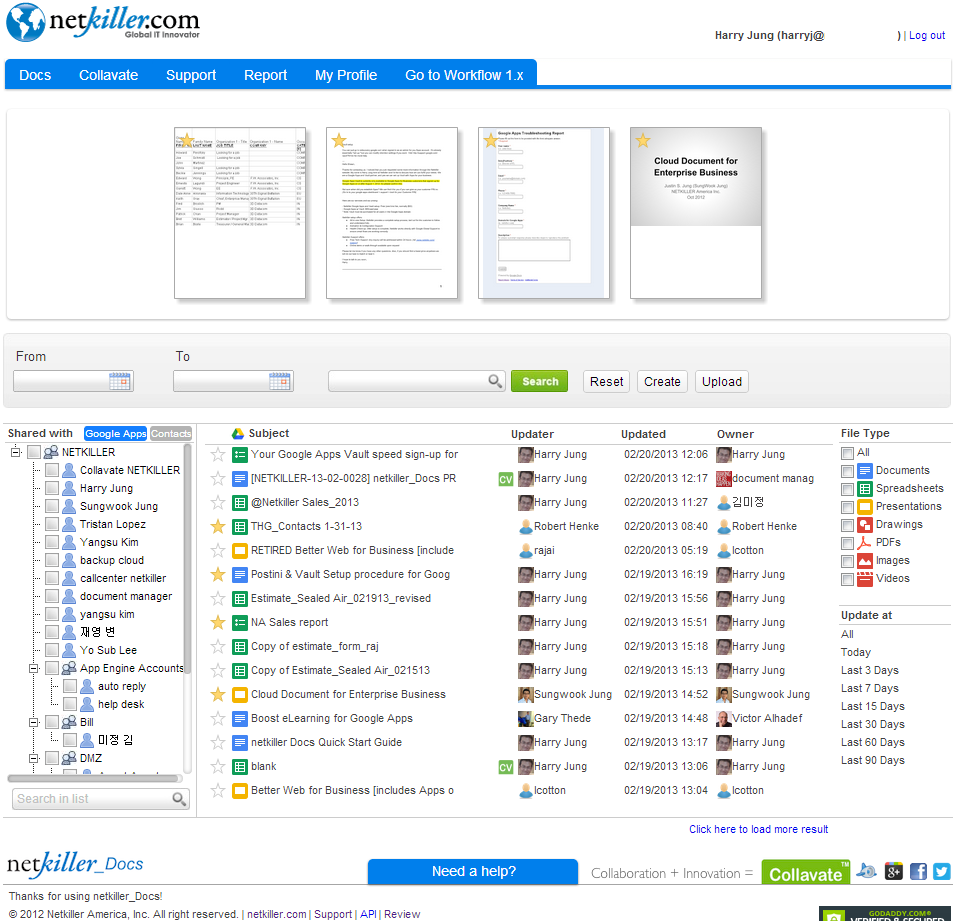 The other function which we were talking about earlier is the 'Collavate' which is essentially the combination of Collaboration and Innovation. The purpose or objective behind this function is to automate the business process and document life cycles. With this function, you will be able to send any document or files securely to any internal or external user to request an approval. This way, the document ownership will automatically be changed to the document manager (admin) and is then finally stored on Google drive.

Because this application is so diverse, it can be used for any kind or type of organization. Official documents, such as contracts, quotations and invoices can be submitted to the supervisors or clients for review. Once the individual has reviewed the documents, they can be officially approved or returned with comments. These documents, once approved will then be processed and archived on the admin's Google Doc.

Given below are several examples of how you can use netkiller_Docs to your benefit.


Attorney/Legal Services: Legal documents are easily managed on Google drive so you can send it to review and sign from the client. Once these are approved, they can be processed.

Media: With this application, journalists can write an article and submit it to a desk and they can be sent to the press in real time after they have been reviewed and edited.

Schools: Reports or essays can be submitted to the instructors and then either confirmed or returned with comments. All the confirmed documents are then recorded and archived on the instructor's Google drive.

If you want proof of the success of netkiller_Docs, you can read about the thousands of reference customers that the application has since its launch. For example, MS autotech now uses netkiller_Docs for their 300 staffs to manage the cloud documentation and confirm to share only with the authorized persons. Also, ChosunBiz benefits from it by sending an article to the desk and keeps track of changes and send it to the press over two years.

Because netkiller_Docs has been secured by the Google Cloud Platform, which is certified by SSAE, 16 Type II and ISAE, 3402 Type II Standards, it is as secure as you can get. Moreover, netkiller_Docs is the 'pure Google Apps Solutions' thus it does not store any of the user's Google Docs within the Google Apps.

To learn more about netkiller_Docs, go to the netkiller_Docs webpage or visit Netkiller website at www.netkiller.com.