Google has announced that G Suite customers who had direct billing with Google will be automatically transitioned to Google Workspace starting from Nov 15th, 2021 and continuing over the coming months. Here are things to consider and how to make the most of the transition.
What is Google Workspace?
Google workspace, previously known as G Suite is Google's suite of cloud productivity applications that make productivity easier for businesses. Google Workspace consists of Google Cloud Apps such as Google Calendar, Drive, Gmail, Docs, and more.
It is a suite of cloud applications that help users manage email, tasks and documents on-the-go. The applications are available as apps on mobile and web browsers everywhere.
What are the benefits of transitioning to Google Workspace?
If you're currently using G Suite, starting from Nov 15th, 2021 your business will migrate to Google Workspace. One of the key benefits of transitioning to Google Workspace is the seamless user experience. Google and its partners are committed to offering a consistent experience regardless of the type of device an employee uses. You can manage documents and access cloud resources from any browser on any type of device.
Second, Google Workspace works seamlessly with Google's other tools. The transition to Workspace has the potential to improve your productivity by enabling access to and interaction with your data seamlessly. For instance, if you use Gmail for team communication, you can easily invite team members to conversations in Google Hangouts.
Preparing for your transition
All legacy G Suite customers will transition to Google Workspace over time. This will be a phased approach that will differ depending on many considerations including their feature & storage requirements and seat size.
If a customer has an active annual or fixed-term contract, their subscription will remain unchanged until their contract term ends.

We are encouraging customers to review the new Google Workspace plan and self-transition or contact reseller partners ahead of any auto-transition. Google can auto-transition customers and email will be sent a minimum 30 days before the auto-transition will take place.
G Suite Business customers should consider their storage requirements when deciding their Google Workspace edition. The Enterprise plan provides unlimited storage. Auto-transitions will take into account the storage usage in the domain.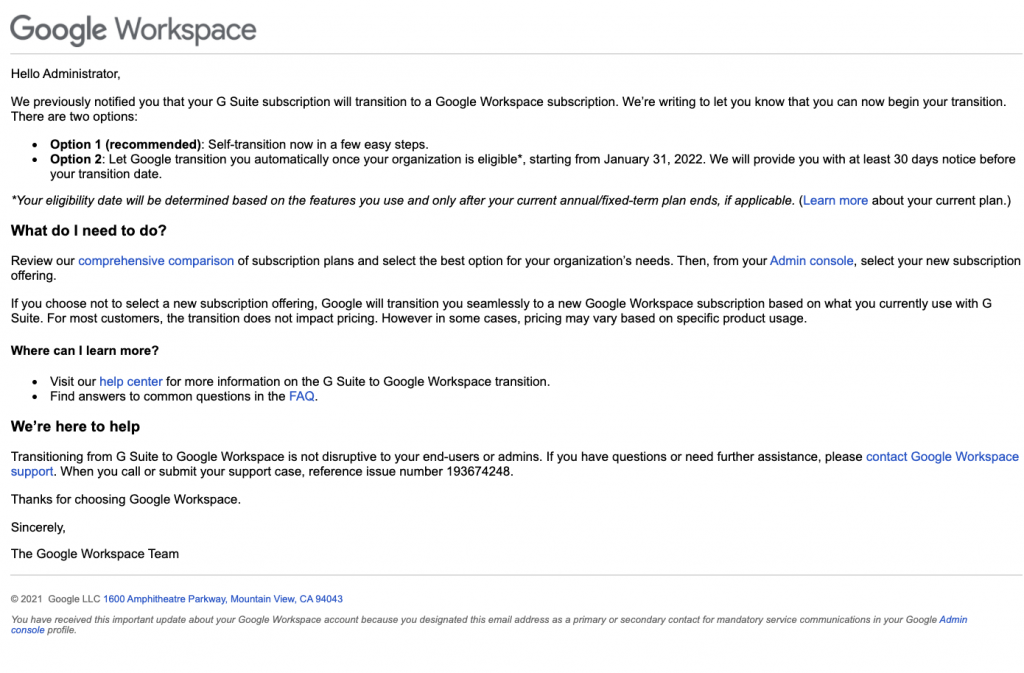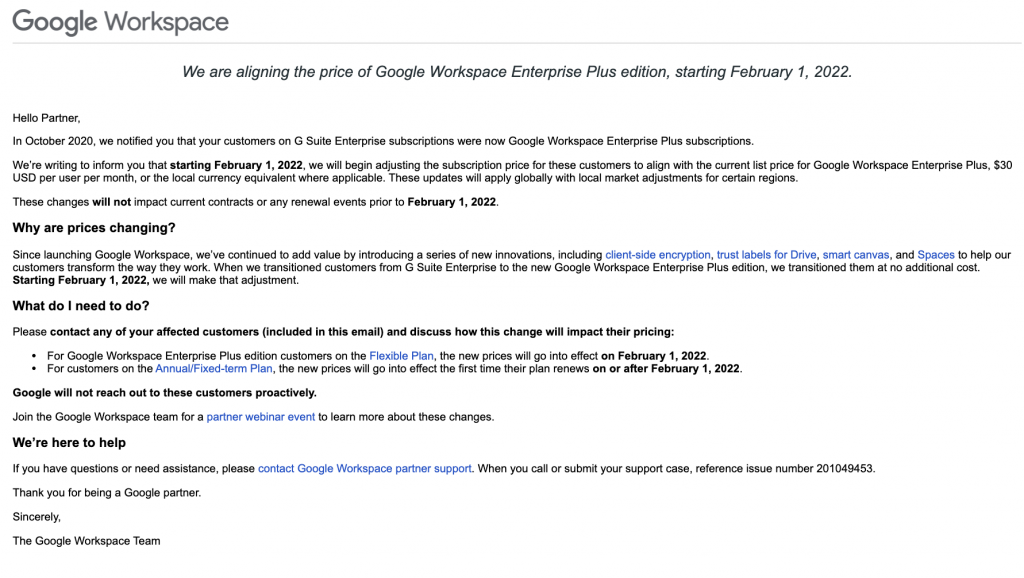 Business Transition Facts and Considerations
When it comes to transitioning from Google G Suite to Google Workspace, there are a few important things to take into consideration:
Who is being migrated?
First, users who have a Google bill paid directly through Google will be automatically transitioned to Google Workspace.
This includes customers from:
Small, medium, or enterprise size
SMBs or enterprises
Global Businesses with less than 10,000 users
When considering the next generation of Google Workspace cloud service business models are critical for success. Transitioning correctly to the cloud saves time, eliminates the need for installation of servers, reduces total cost of ownership and simplifies ongoing operations. Google Workspace is flexible, scalable and easy to manage.

Google Workspace consists of a total of 6 plans: Business Starter, Business Standard and Business Plus plans for up to 300 users, as well as the Enterprise Essential, Enterprise Standard, and Enterprise Plus plans with unlimited number of users. The New license types can be explored here
Specific communications with a transition plan will be sent a minimum 30 days before the auto-transition will take place.
During this period, you will be able to access all of your Google Docs, Sheets, and Slides data from Gmail to G Suite and vice versa.
According to Google, they will be "making the transition in phases to ensure an orderly transition". They will begin by automatically transitioning Gmail, Calendar, Google Drive, and the Google Apps suite, and then will proceed to new unified collaboration service.

Contacting a trusted Google reseller like Netkiller is a great way to get dedicated assistance in making the transition while also saving money with 1,2, and 3 year annual plans. You can learn more about why you should consider making the Google Workspace transition through Netkiller here.