Sunnyvale, California. Netkiller, Inc. is pleased to announce the release of it's Google-based Enterprise Portal.
Netkiller's Enterprise Portal is a groupware solution that re-formats and customizes the Google Apps user interface to make it is easier for people to comprehend. All Google Apps core services, such as Gmail, Google Docs, Calendar, and others. will be visible at a glance. Also, an administrator can add a bulletin board for the organization to make company announcements, and share thoughts, ideas and even photos.
Netkiller's Enterprise Portal helps to boost productivity as users will be able to simultaneously check the list of their unread emails, recently modified documents, organizational charts, space usage of Google Drive and Gmail, today's calendar and the user's to-do list all on one page. The administrator of the portal can also customize the portal page by posting weather, stock price information, and news. The administrator can also adjust the size of widgets and their locations.
Netkiller's Enterprise Portal also leverages the users' Google Apps data and displays on various Google Sites with custom developed sites widgets. It is built purely on Google Sites platform so the data is secured by Google with a 99.9% uptime guarantee. There is no need for any extra hardware or software, or even additional storage.
Since it is possible to set up a hierarchic security structure, the administrator can designate which employees will have editing privileges and which employees will have view only privileges. If an employee is enabled to edit the portal, then he or she can do so just as easily as using a word processor.
Every bit of data that has been gathered through or created within the portal will be saved in the user's own Google Apps account, so there is no need to purchase extra storage. Also, there is no need to be anxious about data leakage.
Netkiller currently provides a total of 6 different portal designs. Netkiller also provides further customization of your organization's portal such as putting the organization's logo on the portal and using various color schemes and layouts to further an organization's brand identity.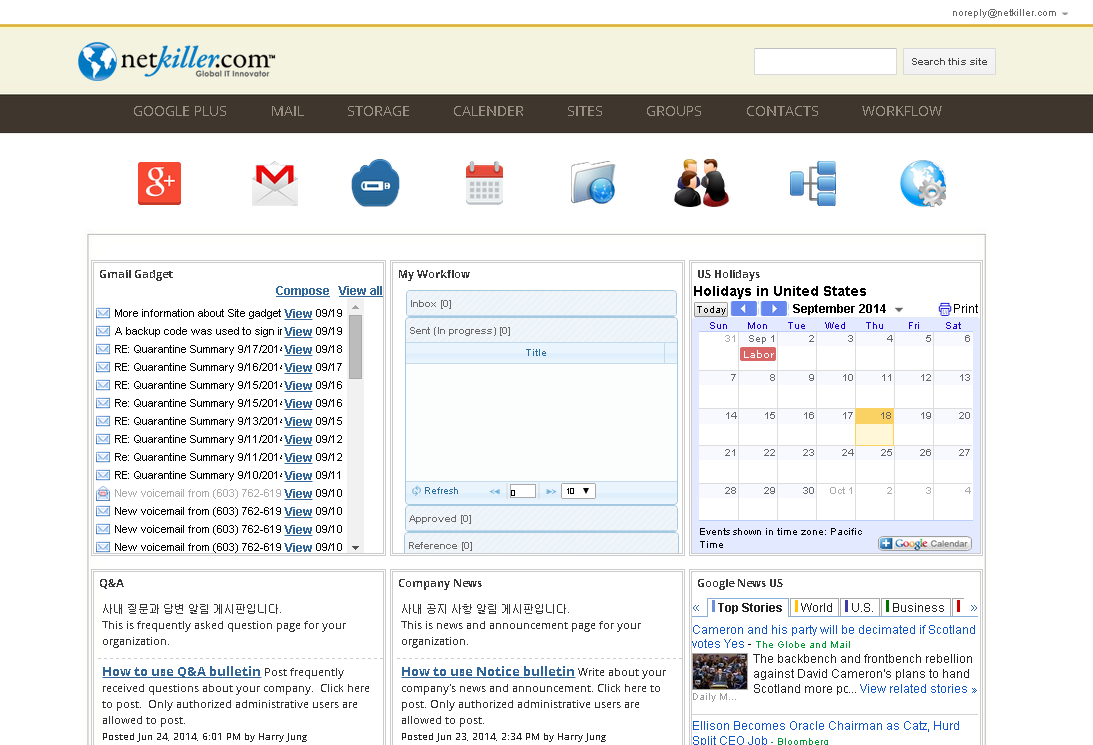 Justin Jung, the CEO of Netkiller, said, "We developed this feature to provide better convenience and to improve the productivity of our users. The enterprise portal allows users to view a variety of features in Google Apps, such as Gmail and Calendar, at one glance. It also provides a way for an organization to broadcast company-wide news to its domain users. Netkiller Team is happy to provide such useful tool to our Google Apps customers who can now enjoy Collavate's electronic approval system as well as creating the best fitting portal for their organization."